I enjoyed the Dainty and Ivory craft swap so much last month that I couldn't wait to take part again for June. This month had a "geeky" theme, and being a complete geek myself, this appealed to me immensely!
We were
all matched up at random, and I was assigned Hannah as my recipient. She told me a few facts about herself and her geeky loves, and from there I set about putting together a geeky package for her.
Hand-beaded dragon bookmark
What I sent:
Hannah loves reading, especially fantasy and fairytales, and one of her favourite mystical creatures is a dragon. I found this beautiful dragon bookmark, and customised it by beading it in her favourite colours- greens, blues and golds.
One of her geeky loves is the book
'A Song of Ice and Fire', now Game of Thrones... a geeky interest we have in common! I spent the best part of a year reading all the books, but I actually prefer the TV show... which doesn't happen often! Since Game of Thrones is a show I love as well, I thought I would make Hannah two types of brooch. The kilt pin represents 3 of the main families battling it out for the throne- the Starks, the Lannisters and the Targaryens. The fabric brooch is a more subtle nod, with the coveted crown in the centre.
Stark, Lannister and Targaryen kilt pin
Game of Thrones fabric brooch
Star Wars made Hannah's list of geeky loves, and I wanted to make something a bit different. I took a classic quote from Han Solo to Princess Leia, and made it into a blank greetings card:
Greetings card inspired by a classic Star Wars quote!
As per the rules of the craft swap, all participants must include a little bought gift in the parcel as well. I'd never heard of Studio Ghibli, but Hannah likes it... and a little search on Etsy revealed this cute unicorn pin as a Studio Ghibli character. I thought he was perfect, as she also told me she loves pastel colours (check!) and another of her favourite mystical creatures is the unicorn (check!)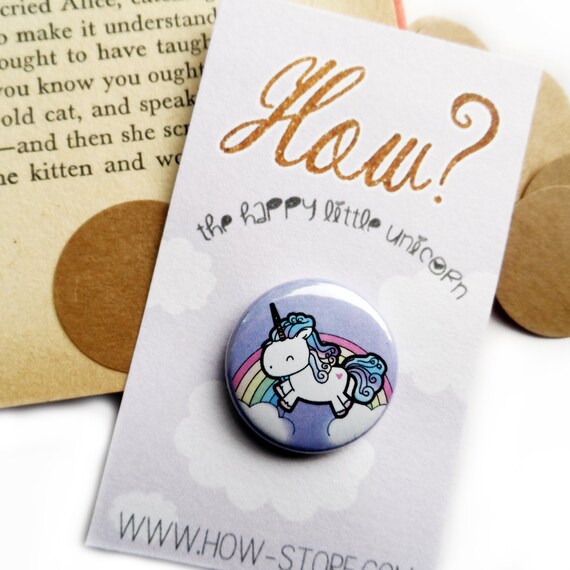 Studio Ghibli pin
What I received:
My geeky gift-giver was Joanne Burgess. When signing up to the craft swap this month, I confessed to my complete geekery, and listed some of my indulgences as reading, writing and TV shows like Breaking Bad, The Wire and Game of Thrones.
The package I received from Jo was delightful! First, I opened a letter with numbered clues as to what my parcel contained. Since I make no secret of the fact I enjoy a freebie, Jo sent me a "bonus" gift of a kilt pin finding. I can't wait to make something pretty from that!
Jo doesn't watch Game of Thrones, but she did her research and made me this stunning 3D beaded dragon. I can tell that he was made lovingly and took a lot of time- and now he is right at home nestled in my geeky study next to my George R.R. Martin collection.
Danaerys Targaryen's dragon
Keeping with the Game of Thrones theme, I also got a beautiful handmade necklace, inspired by a dragon's egg. It was also very thoughtfully made in my favourite colours. A cheeky bonus of dragon-shaped jelly sweets was also very welcome!
Pretty dragon egg necklace
I was lucky enough to receive a couple of lovely "bought" gifts too. In my opinion, nothing beats the feeling of opening a new, crisp writing set or notebook. Since drinking tea is one of my favourite pastimes, this writing set was made for me!
The macaroons look divine!
A fellow Breaking Bad fan, Jo confessed to actually wanting to keep my final gift... I don't blame her, and I can't believe I've never seen this around before. It's a wooden spoon, stamped with Heisenberg's face! I now want to run out and buy one for all my friends who share my love of Walter White. Definitely a wooden spoon for displaying proudly in my kitchen.
Heisenberg spoon... just, wow!