Etsy is one of my favourite websites out there at the moment- it ticks all the boxes for me. Generally-speaking, it's more affordable than shopping on the high street, it supports independent creators and retailers, and provides an unrivalled selection of completely unique treasures! I really enjoyed writing my "cherry blossoms" post a couple of months ago, so decided to write another Etsy post, on peacocks. I have fallen in love with these majestic creatures over the last year- decorating my living room in peacock-inspired colours and obsessing over peacock patterned fabric, home décor and gifts.
Here is a selection of my favourite peacock-themed items currently on Etsy, from UK designers, makers and artists:
I actually hold this painting solely responsible for kicking off my entire peacock obsession... Golden Peacock by Jo Conlon simply belongs in my house! There is a space on my living room wall which is exactly the right size (it's a big painting!) so I have been visiting and re-visiting it on Etsy for well over a year now, but with maternity leave sapping my funds, have never been able to scrape together the money to buy it. At £260 plus p&p, it is not a whimsical purchase. It is, however, to this day the only painting I have ever fallen in love with, so one day Golden Peacock- you will be mine!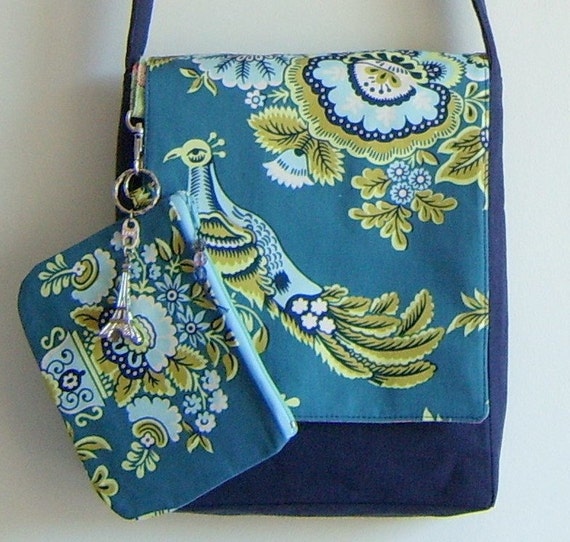 Messenger Bag, by Handmade With Joy
This
messenger bag and purse set
caught my attention as soon as I saw it. Crafted in rare Amy Butler fabric, it's one of a kind and stunning. I particularly like the colour combinations in this set- they give it a quirky, vintage-type feel. The cute little Eiffel Tower charm also attracted me to it, as I love Paris... peacocks and Paris in one gorgeous bag... what more could I ask for?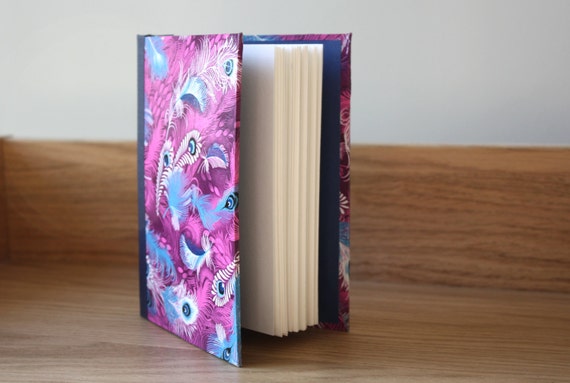 Handmade peacock journal, by My Parlour
This handmade peacock journal by My Parlour would make a perfect, budget gift for a creative friend, writer or fellow blogger! Hardback with 80 blank pages, I think I would really enjoy scribbling down ideas for my future posts, and it's a great price at only £7.50.
This beautiful silk scarf is hand-painted to order by
Mandarin Duck Craft
. At £38, it is affordable designer luxury, and I think it would make an amazing gift for somebody special. I love the colours the artist, Luo Tao, has chosen- and the fact the design is painted freehand.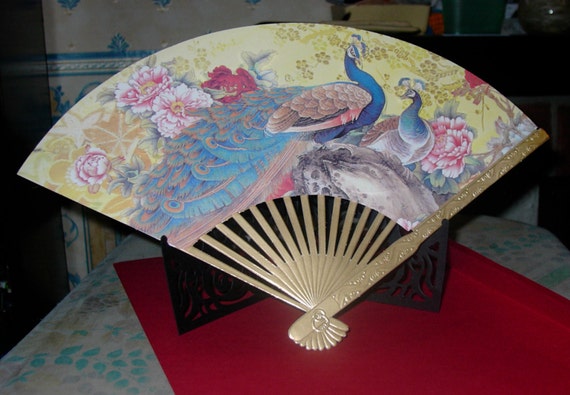 Oriental peacock fan, by CreativMichelle
There is something quirky and wonderful about this oriental paper fan. It incorporates cherry blossoms with peacocks, and would add a real element of interest to a room. Michelle uses 3-layer decoupage to build the images, and the fan comes with a presentation stand. At £6.49, I think this is incredible value for money!
Right now you can get £5 off your first purchase at Etsy using
this link
.