When buying gifts, my first choice is always to try and make something myself. However, this is not always possible- my repertoire doesn't extend that far, and I still have some people in my life who would not fully appreciate something I made myself.
I do try to support small, independent businesses as much as possible, so the next best thing in my opinion when buying a gift is Etsy! This way, you know you are steering clear of inadvertently buying something which has been made in a sweatshop, you can pick up some amazing things for great prices, and the gift is unique... all while supporting a fellow creative soul... win-win for everyone!
At this time of year, cherry blossom trees are one of my favourite things. They really signal that the warmer weather is coming, and they are really beautiful. I'm inspired by a lot of Japanese patterns and designs, so I'm attracted to them for that reason too.
Here is my pick of the cherry blossom items I've been drooling over, all by UK crafters!
These wooden doorknobs by Witch Corner are so cute- I bet they could totally transform an old chest of drawers as part of an upcycling project. Must try some day...!
This is a totally unusual clutch bag, felted from Merino wool. When you open the bag, there is "a simple flower to cheer you up"! How cute is that?!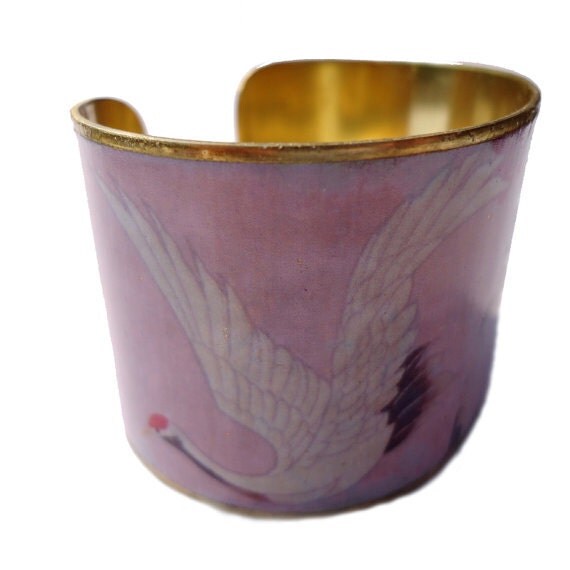 The Japanese crane on the other side

This cuff bracelet is a prime example of how my own crafting skills do not stretch far
enough! It is hand hammered, and I absolutely love the blossoms combined with the Japanese crane designs.
Simple and sweet, this necklace is a winner for me. At £8, I think it's a total bargain as well- you wouldn't find such a pretty piece at that price on the high street, especially handmade!
This ring holder dish has been handmade by Damson Tree Pottery, by pressing a cherry twig into clay, firing, then painting and glazing. It's absolutely stunning, and would look fabulous in my bedroom!
I never considered Etsy for buying a phone cover before, and always tutted at how much they cost. Considering how much I drop my phone, a good cover is essential. The "big phone shops" tend to sell these fancy designs for around £25, so at £6.49 this is a real find. Afraid of the Dark do custom designs as well, but I'm in love with this Japanese sakura one.