Etsy has such a wealth of gorgeous jewellery on offer, completely different to items available on the high street. The fact that you can own a one-of-a-kind piece for a very affordable price completely appeals to me and my thrifty lifestyle.
When the lovely Karen at Beadish Delight sent me this beautiful pair of peacock feather earrings, I fell in love with them- so I was more than happy to review them for my blog!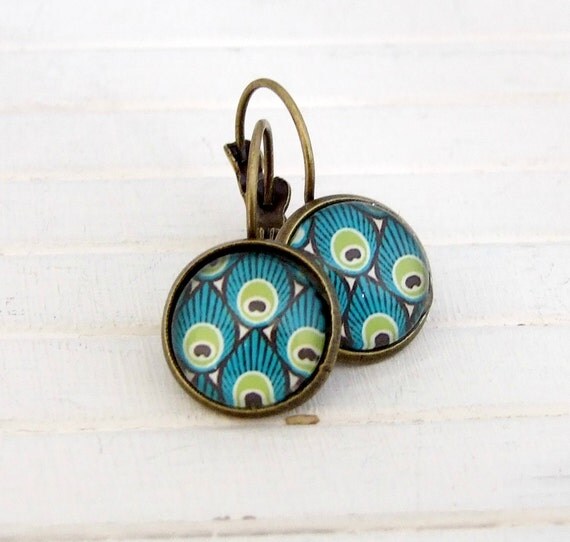 Peacock feather earrings by Beadish Delight
The earrings arrived in a sweet little black box, tied with ribbon and a branded tag. The elegant business card made the whole package seem professional. I have previously written about how important taking the extra time to package and brand your products is (read my post here), and this was an example of how it pays off.
Beautifully packaged
The earrings were nestled safely inside the box in padding and tissue paper. This added to the luxury feel of the product, while keeping them safe in the post.
Cute little box
One of the most striking and unusual features of the earrings is the lever closure hook at the back. They are well-made and feel sturdy. The lever makes the earrings sit in the perfect position once in the ear, and it makes fastening them super easy- as well as adding to the unique design!
The lever closure system
Since their arrival a few days ago, I have worn these earrings a lot- the teal and lime green colours go with much of my wardrobe. In these photos, I paired them with a fabulous vintage silk scarf, which I bought from a local thrift shop called Glad Rags. I find that they really cheer up a plain dress, and each time I have worn them, people have commented and admired them.
The earrings with my thrifted silk scarf
You can buy these earrings here in Beadish Delight's Etsy shop for only £8. I think they would make a fabulous gift, and since they arrive so well presented, could even be sent straight to the recipient's home! Her range also includes lots of other wonderfully unique pieces of jewellery for great prices, such as necklaces, brooches, hair accessories and rings. I would absolutely recommend buying from here.
Please follow Make Thrift Love Life on Bloglovin' for more thrifty, crafty, frugal lifestyle posts!