Introducing Pink Robot: my new Etsy shop! Click here to visit...
In preparation for selling at craft fairs, I decided that the only sensible thing to do would be to promote my goods online too... and where else, but Etsy?!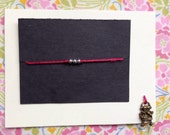 So far, I've properly branded and packaged a few items, and listed them on Etsy. All Pink Robot items come packaged with a teeny cute signature robot charm, as you can see!
"3 wishes" bracelets in various colours- make three wishes when tying this friendship bracelet on to a friend's wrist. You never know, they might come true! Adjustable, and you can buy these in loads of colours, with either silver or bronze beads, for only £2 each.
Lace flower kilt pin- a hand-rolled lace flower with a blue bead, accented by pearl, blue/grey, white and clear glass beads. I think this would be really pretty as an alternative wedding accessory, but it would look equally cute on a coat or bag. This is on sale for £4.50.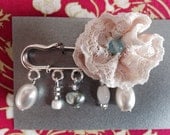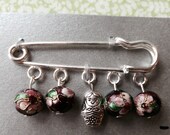 Russian Doll (matryoshka) kilt pin- back to my matryoshka obsession! I reclaimed these purple floral enamel beads from an old, unloved bracelet. They are now nestled beside a cheerful little Russian Doll charm, on sale for £4.50.
Paris kilt pin- I originally had the idea of using an Eiffel Tower charm in a piece of jewellery when I was designing garters for my friend's lingerie store- Dahlia's Boudoir Boutique, in Langside. Lots of people I know got engaged in Paris (myself included!) so I was inspired. The pearls, white and glass beads really complement the look of this pin. This kilt pin is yours for just £4.50!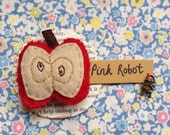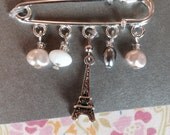 Apple felt brooch- Part of my woodland/ forest range. I modelled this felt brooch on the apple picture I made for my daughter's bedroom (you can read about this by clicking here.) I love the detail of the pips on the apple, and already this item has been favourited by a few people on both Etsy and Pinterest. I'm selling this for £4.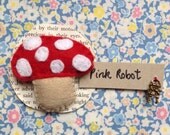 Toadstool felt brooch- This cute felt toadstool is also part of my woodland/ forest range. I have a lot more brooches still to add to this, but I haven't packaged them up yet. I think toadstools are adorable in every form, so why not have one pinned to your clothes? Like the apple brooch, this one is £4.
Come along and have a nosey in my Etsy shop... Pink Robot! I chose the name from the Flaming Lips song "Yoshimi Battles the Pink Robots", in case you were wondering!